About ICT Enabled Programs
ICT (Information and Communication Technology) in education has been gaining recognition and importance in the last decade. ICT creates an impact in the role of unified communication which is not restricted to computer systems but extended to the other communication platforms. On an academic level, it provides students with relevant and contemporary experiences that allow them to successfully engage with technology and prepare them for life after completing the university programs.
AMU has been delivering its distance learning programs through the help of textual material and study centres. However, over the past few years, the best Universities across the world have adopted ICT services to improve the learning experience and magnify the quality of education for students pursuing classroom learning as well as distance learning. The youth of today lives in the world of internet where high quality services are instantly available. Students, at present seek academic opportunities that would enable them to compete at a global level. AMU wants to also explore the ICT Platform to design and deliver its courses for the benefit of students tech savvy par excellence.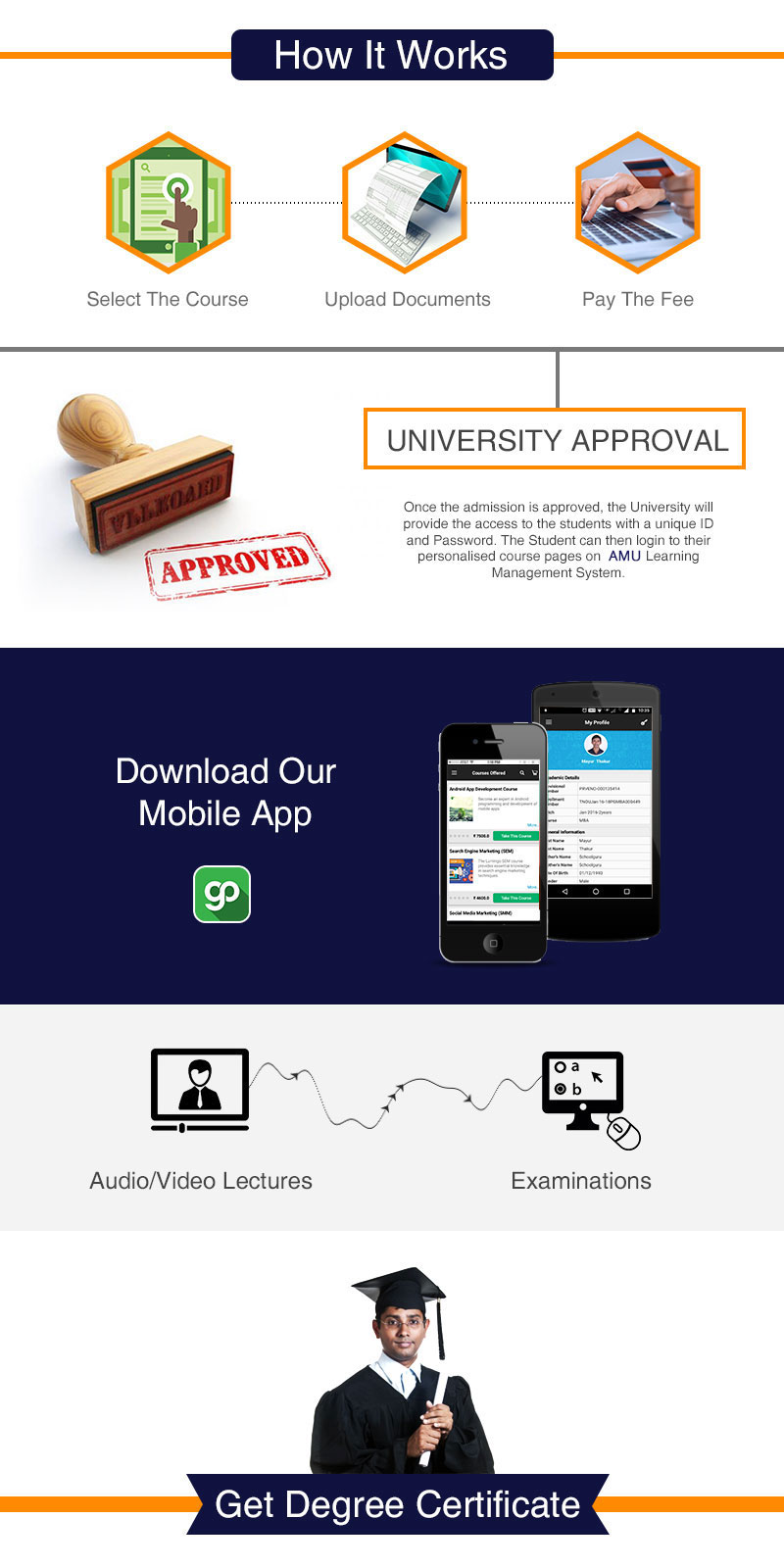 How it Works
The Student first needs to select the program of his choice from AMU website Course page.
The Course page will display the list of documents required. The Student needs to upload all the documents mentioned in the Course.
The Student can then pay the fee via University payment gateway. All the transactions are secured
Once the admission is approved, the University will provide the Student with a unique ID and Password. The Student can then log in to their personalized course pages on AMU Learning Management System.
The Student need to download the Exclusive Mobile App, where he/she can download the full course content online as well as offline and have the option to interact with the professors via messenger on smartphones. The offline mode of the course content can be accessed on SD Cards provided by the University without the need for any Internet connection.
The Students can view and learn from the lectures at their convenience and frequency. The Students will be awarded the Degree Certificate once they clear the University exams as per the grading rules assigned by AMU